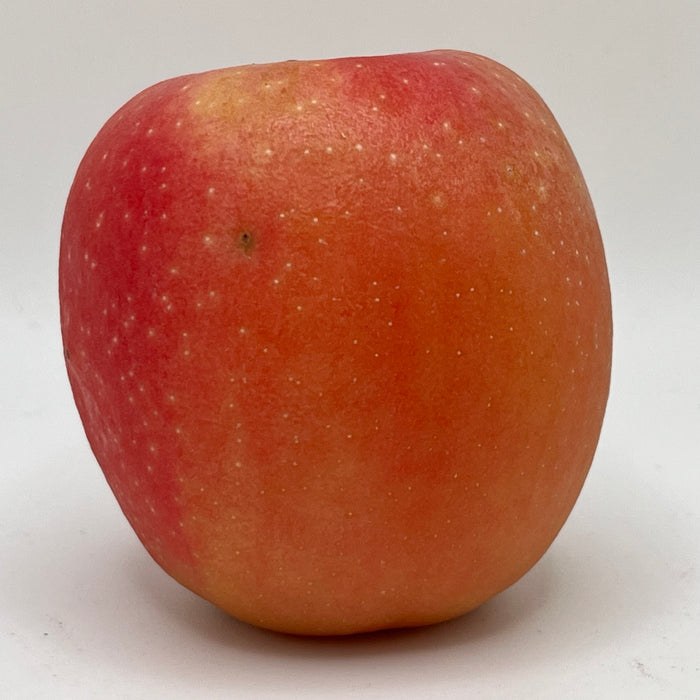 Airlie Red Flesh Apple
Original price
$34.00
-
Original price
$59.00
Also called Arlie or Aerlie Red Flesh Apple (ARFA), this apple is a product of a sport limb from an unknown tree in the 1960s from a farm in Airlie, OR. The apple was almost lost when the orchard's owners moved away. In the 1980s, the apple was rediscovered by the manager of the neighboring farm, a Mr. Thomas Kimzey who then showed it to a pomologist William Schultz. The apple is currently marketed under a different, patented name, but it available to the public as the ARFA.
The apple itself is medium sized and conically shaped. The poles exhibit a green tints that yellows toward the equator. Its skin is slightly opaque revealing the red flesh underneath. Similar to the Pink Pearl, the white lenticels feature prominently across its surface. The apple is sweet with a hint of berry. Unlike the other, early red flesh varieties, this apple takes the time to toughen up and is great fresh eating or baking. 

Inside, its flesh is a vibrant pinkish red color that flows throughout the apple. While not contributing to flavor, it certainly makes a vibrant statement in pies, sauces, and eating off the tree. 
USDA Zone: 4-8
Mature Heights:
EMLA.7: ~15-17' or 60-70% of standard; Semi-Dwarf Ships Spring 2024
Sun: Full Sun
Bloom Group: 2, Early Mid-Season
Ripening Time: October
Pollination: Required