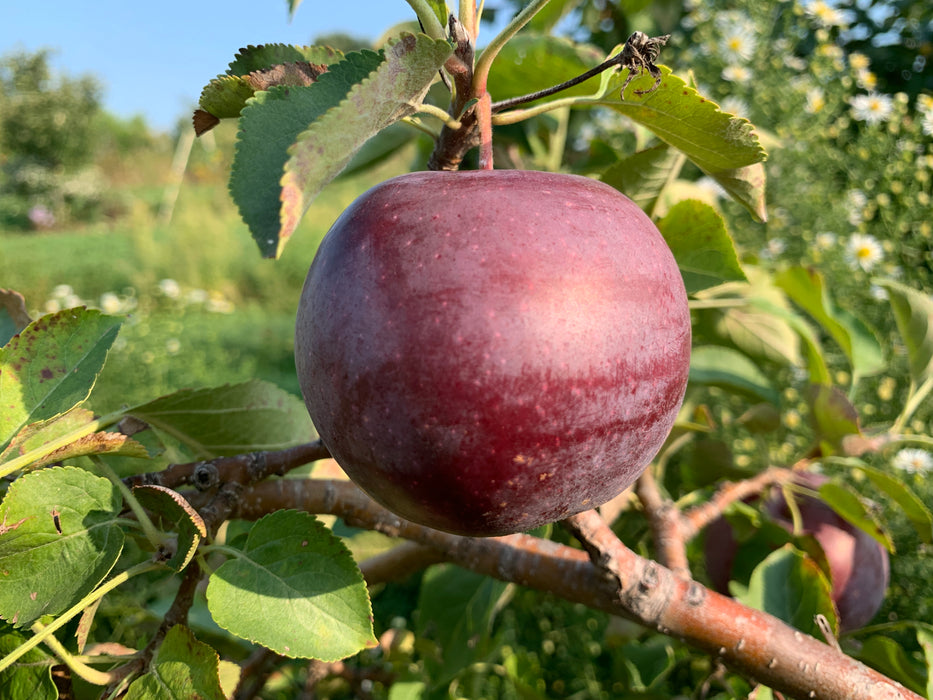 Arkansas Black Apple
Original price
$31.00
-
Original price
$59.00
Introduced 1870 in the orchard of a Mr. Brathwaite, the fruit, a variety of Winesap, round and of medium size. The flesh is yellow, fine grained, crisp, juicy, and aromatic, while the skin is waxy, dark red to black, ripens in October and commonly used as fresh fruit to eat and in pies or cobblers. Rather tart and hard right off the tree, the Arkansas Black needs time to mellow out in storage allowing its flavor to develop. As time passes, some say hints of cinnamon, coriander, cherry, and even anise blossom out. The apple is surprisingly dense for its size and is certainly quite hefty. It is also noted for its resistance to Apple Cedar Rust and is moderately resistant to fireblight. Check out this write up from Arkansas about its eponymous apple. This is Jenny's favorite apple.
USDA Zone: 4-9
Mature Height: 
M.111:  ~18-20' or 85% of Standard; Semi-Dwarf
Antonovoka: 25' or 100% of Standard
Sun: Full Sun
Bloom Group: 4, Late Mid Season
Ripening Time: October
Pollination: Required; Tree is Triploid and will need two other trees in its vicinity to pollinate but is itself pollen sterile. 
M.111 Rootstock Characteristics