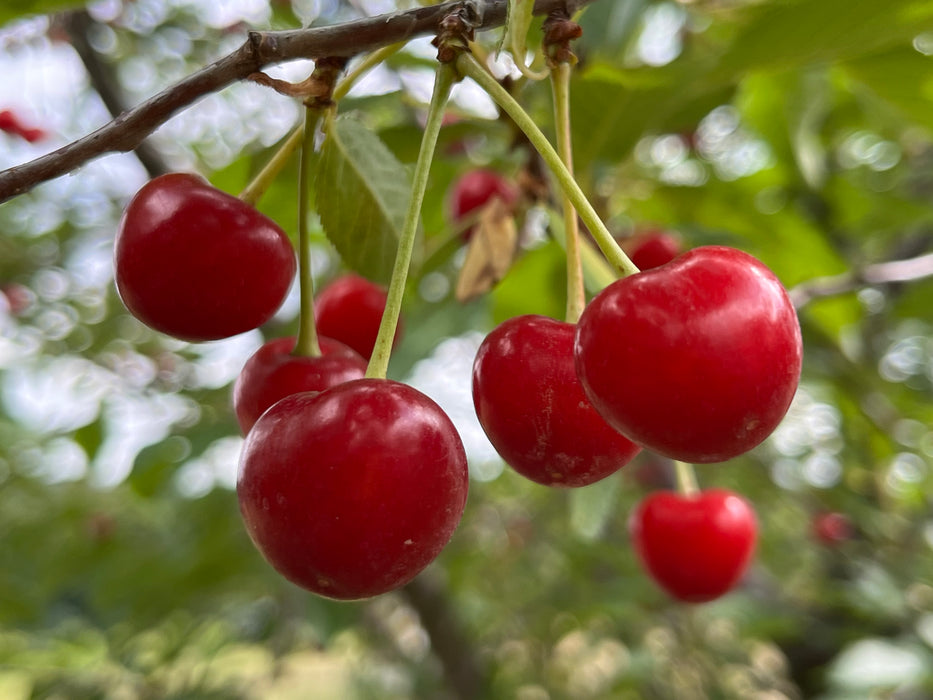 Balaton Cherry
Original price
$39.00
-
Original price
$99.00
A European sour cherry originating in Hungary in the 1970s. Developed through Communist Hungary's government for export, the Balaton emerged as the best for large farming and planting. Originally called Újfehértói Fürtös in the native Hungarian, it was renamed by Dr. Amy Iezzoni, a cherry breeder from Michigan State University. She choose Balaton from Lake Balaton which, she claimed, was the only word Americans could pronounce from Hungary. 
The Balaton is a morello style cherry- dark red (and thin) skin with dark flesh. It is burgundy in color with a vibrant sweet-tart flavor and is quite large for a cherry. It is great in baking since the color saturation of the fruit bleeds into its surroundings. The Balaton is one of the earliest cherries to ripen- usually a full two weeks before Montmorency. It is also self fertile. 
The Balaton cherry tree is a vigorous and productive tree that is resistant to many common cherry diseases, making it a popular choice for orchards. It is a self-pollinating tree, meaning it can produce fruit without the need for a pollination partner, but it will yield a higher crop when planted alongside another variety of tart cherry. Ready about a week to 10 days after Montmorency; harvest began July 2 in zip code 54631 in 2023. 
USDA Zone: 4-9
Root Stock: Mazzard
Mature Height: 20' (Standard)
Sun: Full Sun
Ripening Time: July
Pollination: Not required- tree is self fertile but will pollinate with Balaton and Montmorency Cherries
Scientific Name: Prunus cerasus