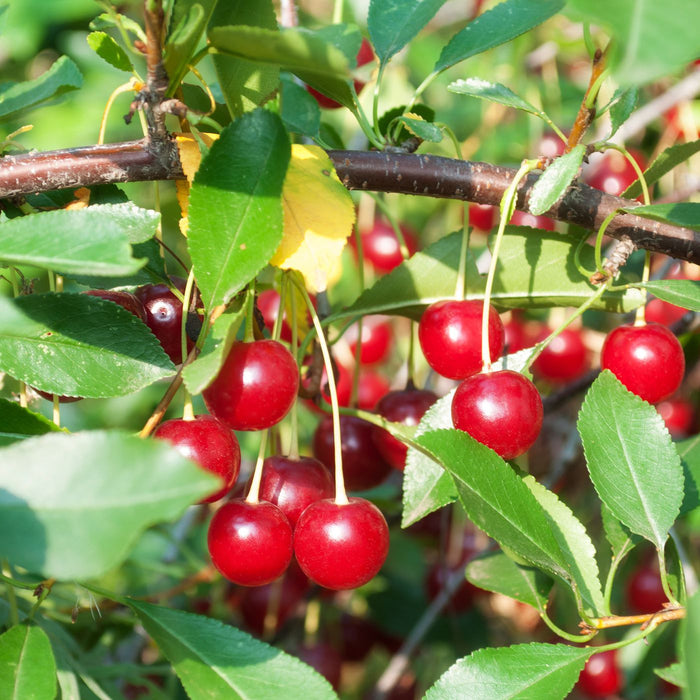 Bing Cherry
Original price
$39.00
-
Original price
$79.00
The Bing cherry is a popular variety of sweet cherry that originated in Oregon, USA, in the late 19th century. It is named after Ah Bing, a Chinese-American horticulturist who worked in the area and helped cultivate the cherry.
It is a large, plump, and heart-shaped fruit with a deep, dark red skin and juicy flesh. It has a rich and sweet flavor that is balanced with a slight tartness, making it a popular choice for fresh eating. The fruit is also commonly used in cooking and baking due to its firm texture and rich flavor.
The Bing cherry typically ripens in late May to early June, making it an early-season cherry variety. However, the exact ripening time can vary depending on the climate and location of the tree. The fruit is sensitive to cracking and bruising, so it should be handled carefully when harvested. The Bing cherry tree is a vigorous and productive tree that requires a pollination partner to produce fruit. It typically blooms in mid-spring and requires full sun exposure and well-drained soil. 
USDA Zone: 5-9
Rootstock: Mahaleb
Mature Height: ~17-20' or 70% of Standard; Semi-Dwarf
Sun: Full Sun
Ripening Time: July
Pollination: Required of another Sweet Cherry
Scientific Name: Prunus avium 'Bing'