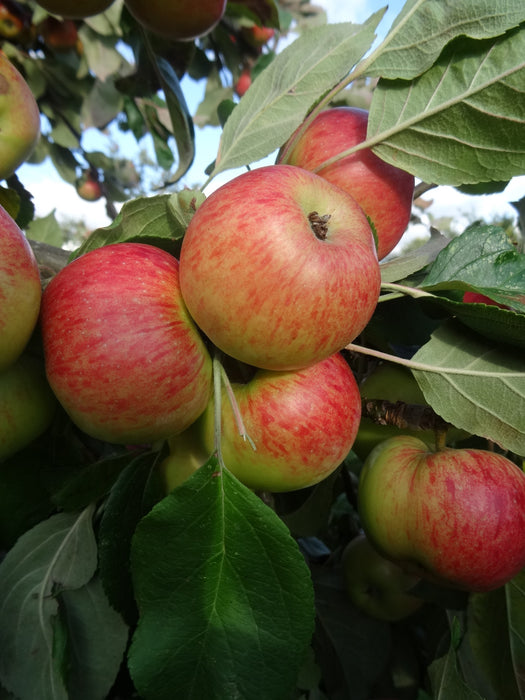 Brown's Snout Apple
Original price
$31.00
-
Original price
$59.00
Discovered in the mid 1850s on the farm of Mr. Dent at Yarkhill, Herefordshire, UK; this is another English Cider Apple. It is on the smaller side, only slightly larger than a golf ball; it is round yet conical and grows in small groups. Its name comes from the russets that form around the calyx of the apple. A calyx is the name for the bottom part of the apple that formed when the flower was pollinated, hence a brown Snout. 
True to name, the Brown Snout's skin is base yellowish green with brown russets at the top of the apple and is smooth and waxy. The flesh is white and firm, sweet and slightly bitter. Some mention flavors of butterscotch or nuts but we noticed an astringent sensation due to its tannin count. The tannins give this apple its bittersweet flavor for ciders. The juice it produces is mellow and dark in color. 
Use this apple within a couple of days once it ripens as it does not store well. The tree grows upright and is a heavy biennial producer. Due to this growth pattern, it is prone to splitting and should be supported. Lastly, it is a late bloomer and should be placed with other trees that are in Bloom Group 4 or 5 to ensure pollination. It is partially self fertile and will produce some apples by itself but will grow more and better fruit with another late season pollinator. 
USDA Zone: 5-8
Mature Height: B.9 ~10-12' or 35-40% of Standard; Dwarf
Sun: Full Sun
Bloom Group: 5, Very Late Season
Ripening Time: Late October
Pollination: Semi Self Fertile but will produce more and better fruits with another late season pollinator. 
Cider Profile: Bittersweet Tannin: 1.6g/L, Acid: .31% TA, Sugar: °Brix 12.0