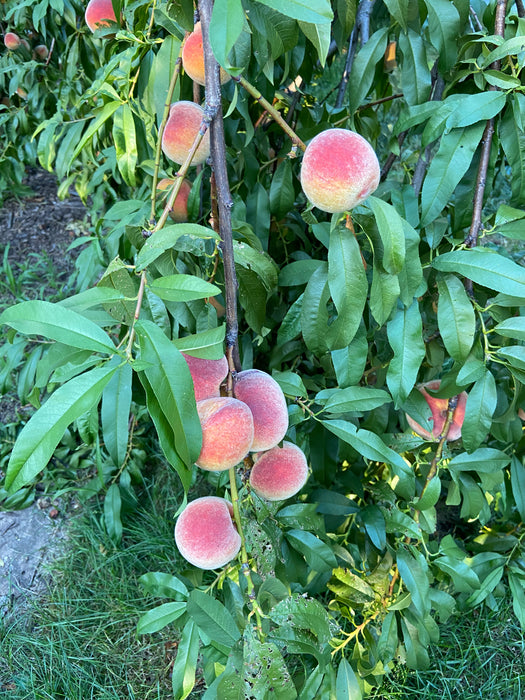 Contender Peach
Original price
$15.00
-
Original price
$249.00
The Contender peach (Prunus persica) is a variety of peach that was developed at the Agricultural Research Service's Southeastern Fruit and Tree Nut Research Laboratory in Byron, Georgia, USA. It was released for commercial production in 1989 and has become a popular choice for growers in the southeastern United States due to its high yield potential, disease resistance, and consistent fruit quality.
The tree is medium-sized, with a round to spreading growth habit. It has a moderately vigorous growth rate and produces a semi-upright canopy. The tree blooms in mid-season and produces white to light pink flowers. The fruit of the Contender peach is medium-sized, with a round to slightly oblong shape. It has a yellow to orange-red skin with a slight blush, and a firm, juicy, and sweet flesh that has a good balance of acidity. The fruit is freestone.
The Contender peach is known for its high yield potential, with an average of 4-5 bushels of fruit per tree. It is also resistant to bacterial spot, which is a common disease in peach trees. This resistance allows growers to use fewer pesticides in the production of the fruit.
USDA Zone: 4-9
Mature Height: 8-10' (Semi-dwarf) Lovell
Sun: Full Sun
Ripening Time: Early September
Pollination: Not Required- tree is self fertile
Semi-Dwarf Rootstock: Lovell
Scientific Name: Prunus persica 'Contender'