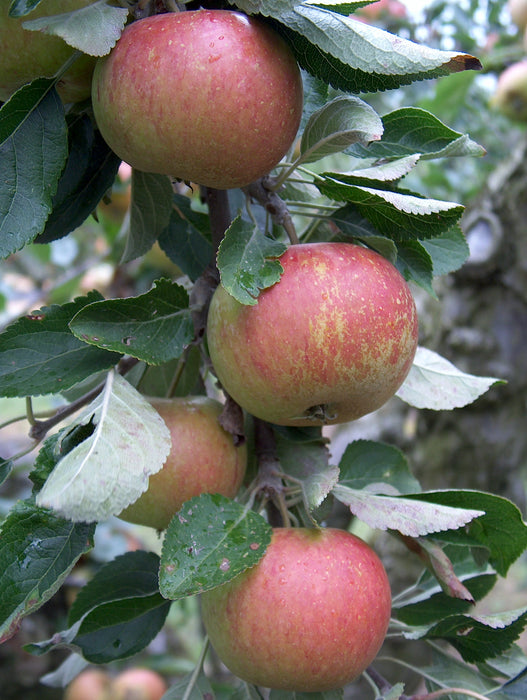 Cox Orange Pippin Apple
Original price
$31.00
-
Original price
$99.00
First bred in 1825 in Colnbrook, UK from possibly Ribston Pippin and the Blenheim Orange- the Cox Orange Pippins is the premier English Dessert Apple. It is also a parent to many English apple varieties- unfortunately most of these are unknown in the US. However, the Gala can count itself as a distant progeny of this Pippin.
It is medium to large in size, round, and oblate with slight ribbing. Its name comes from the bright orange bush that covers the apple throughout the summer as it ripens. Its skin has a matte finish that is not glossy and is thinly firm: it is easy to bite into. The flesh is creamy light yellow and more fine grained than most apples. It is tender yet substantially crunchy with wonderfully flavorful juice.
The Cox Orange Pippin's flavor brings delight to English desserts. It is easiest to grow in the UK due to the cool maritime climate. Some say this flavor of the is reminiscent of cider, cinnamon, mangoes, oranges, and melons. It's a high-quality dessert apple when eaten fresh and often blended with other apples in cider. This apple has never traveled far since it is best right off the tree and does not transport well. It is best prepared quickly to capture its most remarkable flavor.
A very aromatic and complex variety with a flavor profile that has hints of melon, pear, and orange. The yellowish flesh is surrounded by orange-red skin and mottled with carmine over light, green. It is susceptible to scab, canker, and mildew, and is not commonly grown in the US for commercial production.
USDA Zone: 4-8
Mature Height: M.7 ~15-17' or 60-70% of Standard; Semi-Dwarf
Sun: Full Sun
Bloom Group: 3, Mid Season
Ripening Time: Late September- Early October
Pollination: Required