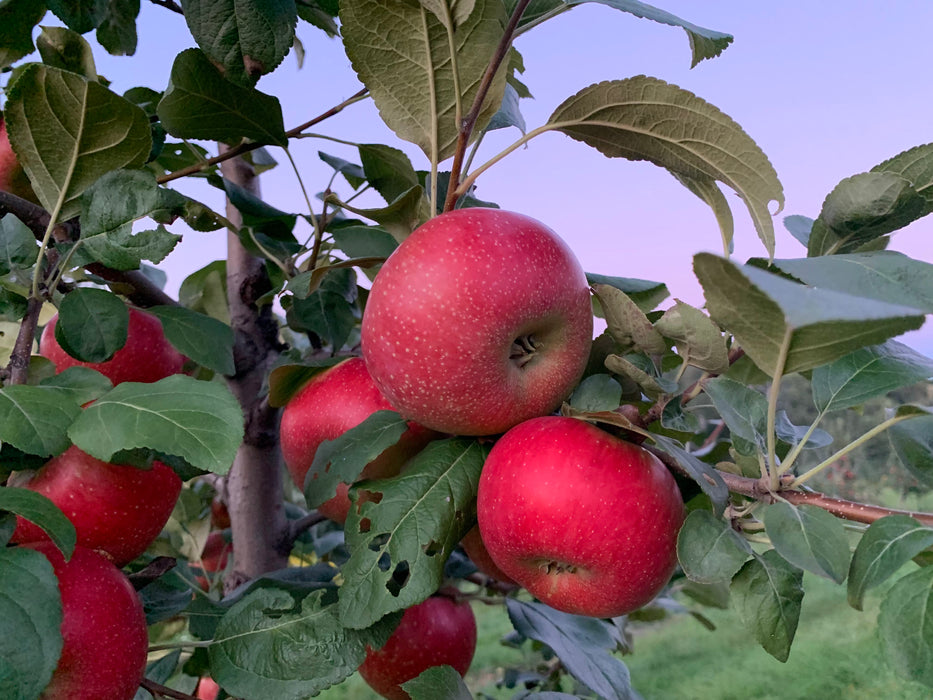 Crimson Crisp Apple
Original price
$31.00
-
Original price
$79.00
First created at Rutgers Fruit Research Center in New Jersey in 1971 and is a cross between apple PCF2-134 and PRI 669-205. The Crimson Crisp was certainly not the first to go through a calculated breeding program to produce superior results. These modern techniques help researchers select for the best features in apples. In fact, most modern apple were created this way. However, some of the Crimson Crisps named parentage includes the Golden Delicious, Red Rome, and Malus floribunda. 
The apple is medium sized, round and slightly conical that taper toward the bottom of the apple. Its skin is uniformly bright crimson in color that blushes to not quite purple in the sun. The lenticels (little dots on the surface of the apple) numerously dot the surface but do not impact the color. The skin is thick and glossy but not waxy. Its flesh is light yellow, dense and firm- almost hard but give a truly unforgettable crunch. It is from these two traits, the color and crunch, where the Crimson Crisp gets its name. 
Bred to be resistant to apple scab, the apple trees is upright and rounded and apples grow along new wood. This tree is great for residential and commercial orchards as the apples ripen in September and hold to the tree for 4 weeks.

USDA Zone: 4-9
Mature Height:
B.9: 10-12' or 35-40% of Standard; Dwarf
NIC 29: 12-14' 45-50% of Standard; Semi-Dwarf
B.118: 17-20' or 85% of Standard; Semi-Dwarf
Sun: Full Sun
Bloom Group: 5, Late Season
Ripening Time: Mid September
Pollination: Required
Read more about the Crimson Crisp Apple here. 
NIC 29 Rootstock Characteristics