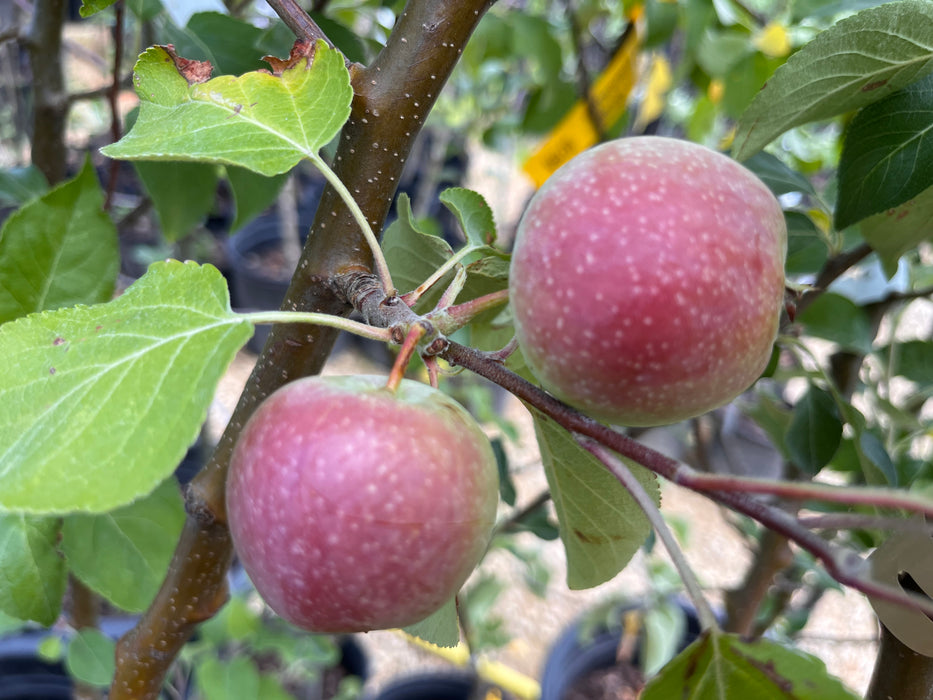 Enterprise Apple
Original price
$31.00
-
Original price
$99.00
First developed in the Purdue University Horticultural Farm in 1982, the Enterprise Apple is another in several modern apples prized for its disease resistance and ease of growth. Counted among its parents are the Golden Delicious, Rome Beauty, McIntosh, and the Malus floribunda. It is from this final apple, the Malus floribunda, that the gene for scab-resistance originates. 
The apple is medium to large in size and very round- though it can be lopsided or lobed depending on where it grows in the tree- more on that later. It has bright red, glossy skin with numerous lenticels that give the apple a polka-dotted appearance. The skin is rather thick and chewy further helping its resistance to disease- particularly to Apple Cedar Rust. Its flesh is yellow, medium grained (which means its juicy), and firm. More sweet than tart when eaten fresh but flavor peaks about 1 month into storage so the tartness has a chance to develop. Also an excellent baking apple. 
The Enterprise Tree is a vigorous upright grower with a rounded crown on which apples grow along the length of the branch. The apples persist on the tree long after ripening and can extend the harvest season; however, since this apple is a late ripener already, you might want to harvest them before they stay on too long. Finally, it bears annually with proper pruning. 
USDA Zone: 3-9
Mature Height:
B.118: 20-22' or 85% of Standard; Semi-Dwarf
Antonovka: 25'+ or 100% of Standard; Standard
Sun: Full Sun
Bloom Group 4 Mid-Late season
Ripening Time: Late October to Early November
Pollination: Required
B.118 Rootstock Characteristics