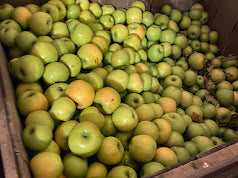 Ginger Gold Apple
Original price
$31.00
-
Original price
$79.00
In 1969, Hurricane Camille washed away vast swaths of Clyde and Frances 'Ginger' Harvey's orchard. In a valiant effort to recover as many seedlings as possible, the pair replanted every salvageable seedling they could find. Among a group of Winesaps, one tree looked different but was planted anyway. Instead of producing red fruit like the Winesap, this new tree produced large greenish yellow fruit. Clyde named the chance seedling Ginger Gold after his wife.
The Ginger Gold quickly because a popular early apple. Ripening about three weeks before Gala, the Ginger Gold displays common characteristics of other early apples. The skin is pale green maturing to a very pale yellow with ivory flesh. It tastes quite mild with a slightly tart finish. It's slightly waxy skin and resistance to browning made it an ideal early commercially viable apple- leading to great success. One of the fifteen most popular apples to grow in the United States, it is a common apple in grocery stores. Most people use in pies or lunches. This is Angie's favorite apple. 
USDA Zone: 4-9
Mature Heights:
B.9: 10-12' or 20-35% of Standard; Dwarf
G.935: 12-15' or 45-50% or Standard; Semi-Dwarf
M.111: 18-22' or 85-100% of Standard; Semi-Dwarf
Sun: Full Sun
Bloom Group: 3, Mid Season
Ripening Time: Late July- Early August
Pollination: Required
G.935 Rootstock Characteristics 
Read the short news article about the origins of the Gingergold here.