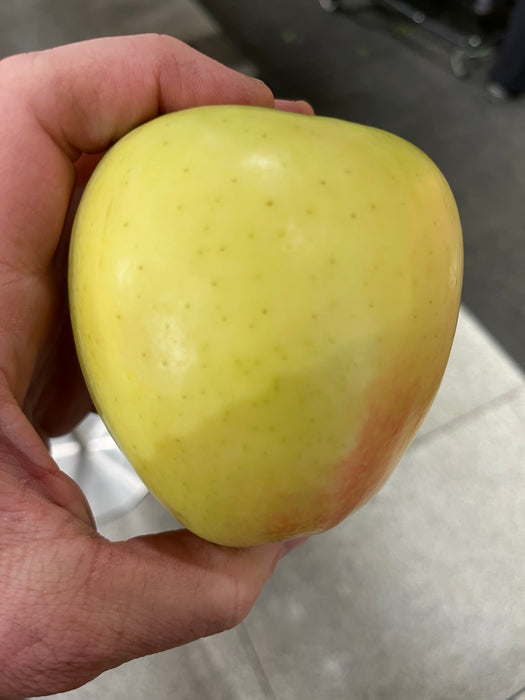 Golden Delicious Apple
Original price
$31.00
-
Original price
$59.00
First discovered in Clay County, West Virginia in the late 1890s as a chance seedling of a Grimes Golden or Golden Reinette. When it became commercially popular in the late 10s and 20s, the Golden Delicious soon became one of the most commonly bought and sold apples in the US.
It is large, conical, and yellow in color. The skin is thin and slightly waxy making its easy to transport and store. The Lenticels are pronounced but do not encumber eating. If left on the tree longer to ripe, it can develop a slight russet on the stem and calyx ends of the apple. It has a sweetly balanced flavor the really tastes like an apple. Most Golden Delicious apples bought in the grocery store are picked early before the flavor has had a chance to develop; leave it on the tree to ripen for an exceptionally sweet and rich flavor. It is great for pies and eating fresh off the tree.
A defining trait of the Golden Delicious is its progeny. Dozens, if not scores of apples can count the Golden Delicious somewhere in their family trees. Several commercial apples have a history with this apple. While not noted here, the individual apples on this website will count the Golden Delicious amongst their ranks. The cider it produces is pale brown in color and almost translucent without saturation  it is mildly sweet and apple-y in flavor with and even slighter pucker of tartness.  
USDA Zone: 4-9
Mature Height:
G.890: 15-17' or 55% -65% of Standard; Semi-Dwarf
M.111: 18-21' or 85-100% of Standard; Semi-Dwarf
Antonovka: 25'+ or 100% of Standard
Sun: Full Sun
Bloom Group: 4, Late Mid-Season
Ripening Time: Early October
Pollination: Required
M.111 Rootstock Characteristics