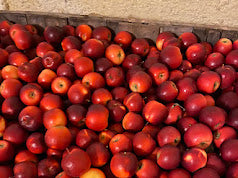 Braeburn Apple
Original price
$31.00
-
Original price
$99.00
The Braeburn apple is a popular apple cultivar that originated in New Zealand in the 1950s. It is known for its firm, crisp, and tangy fruit, which has a long shelf life and is popular in both fresh and cooked preparations.In terms of cooking, the Braeburn apple is a versatile apple that is suitable for a variety of preparations, including pies, crisps, sauces, and salads.
The fruit of the Braeburn apple is medium to large in size, with a red-orange skin that is often striped with green. The flesh of the apple is firm, crisp, and juicy, with a tangy flavor that has hints of sweetness and spice. The fruit ripens in mid- to late-October, depending on the location and climate.
Uncommon to most apples- the Braeburn is self fertile and will produce some fruit on its own but homeowners will get more and better fruit with a pollinator. An excellent baking apple, it holds it shape when cooked and does not release tons of juice when heated. Stores well in consistent temperatures for 4-6 months. 
USDA Zone: 5-8
Mature Height: M.7 & EMLA 7 ~14-17' or 60-70% of Standard; Semi-dwarf 
Sun: Full Sun
Bloom Group: 4, Late Mid Season
Ripening Time: Late October
Pollination: Not required, tree is self fertile
EMLA 7 Rootstock Characteristics smaller mature height but more disease resistant