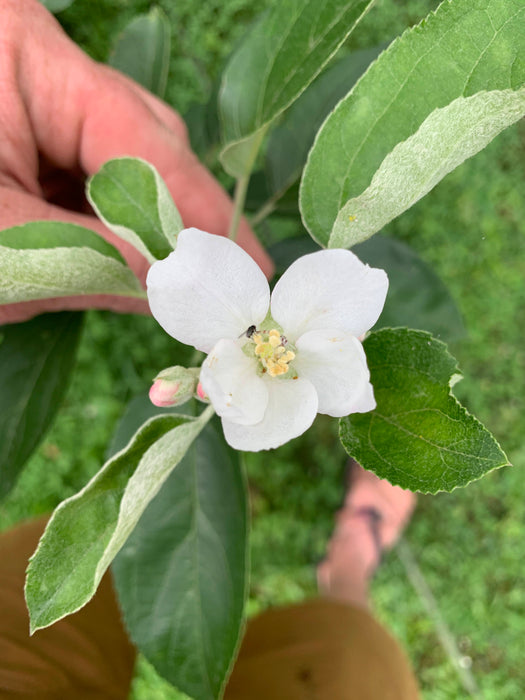 Red Gravenstein Apple
Original price
$37.00
-
Original price
$59.00
The Red Gravenstein is a sport of the much older Gravenstein Apple. Originally planted in the 1670s, the Gravenstein apple was used as a cooking and cider apple. Modern orchards are located in Austria and southern Germany though it is popular across northern Europe. It first came to the Americas in 1811 where a Russian fur expedition planted a sapling at Fort Ross.
The Red Gravenstein retains many of the traits of its parents- typically one presses them for cider. It is a medium-large sized apple with a pale green base that blushes candy red in August. Its flesh is white and crispy with sweet-tart hints of honey and melon. The cider it produces is mildly-tart and is opaque- yellow. 
Tree is a triploid so it will need two additional trees along side it for pollination but is itself pollen sterile. An early apple it is best to use this quickly as it stores for only a couple weeks. Some evidence suggests this tree can grow in Zone 3 but further research is needed to confirm this. 
USDA Zone: 4-8
Mature Height:
NIC 29 ~10-12' or 40% of Standard; Dwarf 
M.7 ~14-16' or 60-70% of Standard; Semi-Dwarf
B.118 ~18-21' or 85% of Standard; Semi-Dwarf
Sun: Full Sun
Bloom Group: 1, Early Season
Ripening Time: August
Cider Profile: Sharp Tannin: .7g/L, Acid: .56 TA, Sugar: °Brix: 12.6
Pollination: Required Tree is Triploid and will need two other varieties of apples to pollinate but will not pollinate another apple in return.
NIC29 Rootstock Characteristics