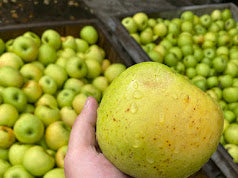 Rhode Island Greening Apple
Original price
$31.00
-
Original price
$59.00
This American heirloom variety can trace its lineage back to Rhode Island in the mid 1650s and was discovered on the farm of a Mr. Green near Middletown, RI. Probably a chance seedling, the RIG is the State Apple of Rhode Island. While the original tree has since died, Mr. Green propagated this apple which spread across the Northeast and is popular in orchards even to this day.
It is a large, bright green apple with smooth and shiny skin. Its flesh is tender, white, crisp, and very juicy. It maintains its shape when baked making excellent in pies. It is this trait that has kept the RIG popular even after nearly four centuries of growth in the US. It is the quintessential apple to use in apple pie. The tree is slower to produce than other apples but is an extremely long lived tree.
USDA Zone: 4-9
Mature Height:
M.7: ~15-17' or 60-70% of Standard; Semi-Dwarf (Ships Spring 2023)
MM.111: ~18-21' or 85% of Standard; Semi-Dwarf
Sun: Full Sun
Bloom Group: 4, Late Mid Season
Ripening Time: October
Pollination: Required- tree is Triploid and cannot pollinate other trees- 2 different varieties of trees are needed to pollinate this tree.